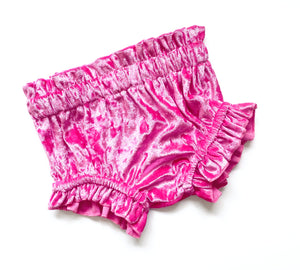 Sweetheart Velvet Bloomers RTS
Hot pink crushed velvet bloomers with adorable ruffles at the legs. These are limited in quantity and ready to ship.
These bloomers are part of our new Curated Collection. CC is a collection of carefully selected items sourced from other makers, some handmade, some designed in the US and imported. Some of the CC items will be designed here by Girl With A Twirl and others include pieces from other designers. Our hope is that you will find a variety of wonderful and diverse pieces for your collection and our guarantee is that you will love these items as much as our handmade line. Each item is chosen for cuteness, quality, and detail!